Marketing materials and printed products are a direct representation of your brand. Your materials should look good and build confidence with your audience. Mistakes in the printing process waste your time with a lot of back-and-forths or leave you with embarrassing products.
To avoid these frustrations, choose a printing company that values your jobs and brings expertise to the table. This blog explains how you can find the right on-demand printing agency to deliver high-quality training manuals, menus, donor newsletters, brochures, flyers, branded merchandise, notebooks, and more.

What Makes a Great Printing Agency?
Your project should be done right every time. Selecting the right partnering print house for your job will save you a lot of time, money, and hassle. Here is what you should look for in an excellent printing agency.
Employs Expert Support
When the kid at the big box print shop gets your job, they will print it—even if the layout is set up wrong or the bleeds aren't running entirely off the edge when they should. They simply don't know when things are wrong, and they rarely know how to fix anything on the fly.
Adapts to On-Demand Printing Jobs
A printing house with expert designers on staff means files can be modified if clients need a design change. So, whether you change a detail last minute in the wording or want to shift something in the design, a great printing agency will help out.
Larger printing companies can't do anything unless jobs are print-ready and in a specific file format because their employees aren't trained in design. This means a smaller printing company will adapt to each job faster to provide a more accurate end result.

Offers Consistent Quality
When you are always working with someone else at a large print shop, you never know what kind of quality you will get. Prints can be poorly aligned, too dark, incorrectly sized, printed on the wrong paperweight for the project, and more. As a result, you might have a great experience one day and then have a project end up with several time-consuming mistakes the next.
When you have experts on the job, they will help guide the process. A great printing company should help you choose the ideal paper or printing material for the perfect end result. Printing professionals should be a second set of eyes, looking over the design and offering high-quality results every time. You should feel confident in what kind of quality you will get every time—even for the smallest jobs.
Provides Time-Conscious Service
Your time is valuable, and you don't want to waste it in unnecessary hand-holding. Larger print shops aren't always prepared to handle your jobs without a lot of explanation and proofing. The right printing agency is going to speak your language and understand that time is of the essence.
High-level professionals value the time and deadlines of their clients. Not only will a great printing company take steps to make the process faster on your end, but they will actually have the skill on board to do so consistently.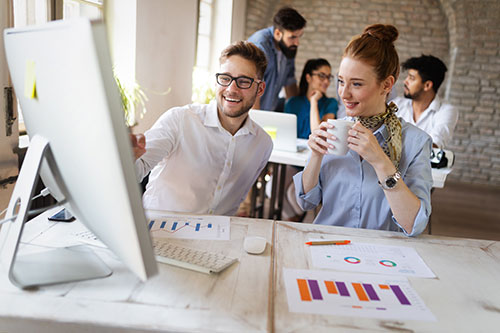 Builds a Relationship with Customers
Communication is a huge benefit when working with a printing company. Not only do you want to be kept in the loop, but you also don't want to have to drive to a print store every time you need to place an order.
A great printing company is going to have a relationship with its clients. You can email your jobs and work with a singular rep to get the jobs done. Rather than feeling like a number, you can form a relationship with a small and locally owned printer.
Has a Local Reputation
A local reputation means a lot to a small and community-based print shop. This means that quality control is much more important to most locally-owned shops when compared to big box stores. Plus, money spent with a local company goes right back into the community, not into the pockets of a national CEO.
If you are looking for a local expert printing agency in Central Florida, we can help. Located in Lake Mary and near Orlando, FL, we bring a personal touch to every job and establish relationships with our clients. Our team of experts produces consistent, high-quality creative printing services. Talk to us today to discuss your next project and find out what makes us so different.